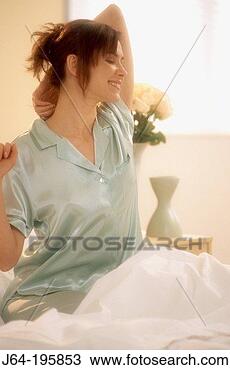 Nope, this isn't me ... but it could be!
(let's don't get nit-picky about it ... It COULD be me if I were 20 years younger. Oh - and 20 lbs lighter. and. and. and)
I wish I could declare it a national PJ day for all women.
As a rule, we don't stop going when we've reached our limit. Men do.
So years ago (someday I'll tell you why) I adopted Thursdays as my PJ day.
For about 4 years I stuck to it religiously.
1- turn off the phones
2- turn on the TV (or whatever other mindless thing helps you to relax)
3- stay in your PJs
4- no leaving the house for appointments or anything else no matter how important (unless it's important enough for you to go in your PJs)
5- no making meals, cleaning up, driving carpool, etc.
6- sleep in as late as you like
Most Important:
7- this is YOUR day. Everyone else can either fend for themselves or find another mother/wife/friend to handle things.
(this actually is me)
I've found that it's best to have your weekly PJ day on a day when everyone else is generally busy. ie: kids at school, husband at work. Almost without fail, everyone I suggest a weekly PJ day to tells me how impossible it would be. Every excuse in the book. But I'm telling you: work, family, PTA, the parole officer ... EVERYONE ... really can do without you for 1 day a week. They really can. You just have to decide you're worth it. And you know what? Everyone will like you better if you do this because you'll be a whole lot nicer. Now, if I haven't convinced you, then will you at least try to have 1/2 PJ day weekly?
This is your mission, if you choose to take it.
(said in my most husky man voice)
Try it, then report back.